Dr. Scott Tanaka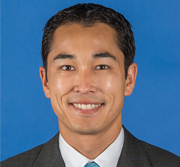 Dr. Scott Tanaka
Consultant Orthopedic Surgeon
Scott Tanaka, M.D., is an Orthopaedic surgeon fellowship-trained in hand and upper extremity care. Dr. Tanaka provides specialty treatment for Orthopaedic conditions of the hand, wrist, elbow and shoulder, including sports injuries, traumatic injuries, chronic conditions, congenital problems and more. He also provides excellent general orthopedic care.
Dr. Tanaka earned his bachelor's degree from the University of California, Davis and medical degree from Tulane University School of Medicine. He completed an Orthopaedic surgery internship and residency at Atlanta Medical Center Department of Orthopaedic Surgery. Dr. Tanaka then pursued additional training, completing a hand and upper extremity fellowship at the renowned Indiana Hand to Shoulder Center.
During his residency training, Dr. Tanaka was an assistant team orthopedist for the Georgia Tech baseball team, providing sideline support and treating injured players.
He is a member of the American Academy of Orthopaedic Surgeons, American Society for Surgery of the Hand as well as the American Association for Hand Surgery.
Dr. Tanaka enjoys the challenge and variety that upper extremity care provides, from common treatments such as carpal tunnel syndrome to more complex surgical procedures including total wrist, elbow and shoulder replacement. He also performs minimally invasive procedures such as wrist, elbow and shoulder arthroscopy to help return patients to activity as soon as possible. Dr. Tanaka works closely with each patient to present treatment options, understand the goals they hope to achieve, and help them make the best treatment decision based on those goals.
In Dr. Tanaka's spare time, he enjoys skiing, golf and spending time with his wife and three children.
Dr Tanaka's perspective on patient care:
"I believe the key to a successful outcome is involving the patient in the decision making process. Treatment begins not only with identifying the problem, but also understanding the goals each patient hopes to achieve and helping them make the best treatment decision based on those goals. Communication is an important component of care both for diagnosing a problem as well as ensuring each patient understands their treatment plan and what to expect throughout their recovery process. It is my privilege to care for patients and help them achieve the best outcome possible."
Dr Tanaka is a Consultant Orthopedic Surgeon with 'The Hosalkar Institute' and is a welcome addition to the Institute.