Hip Preservation Surgery
Thank you Dr Hosalkar for a successful hip preservation surgery and helping me avoid a hip replacement earlier than I want!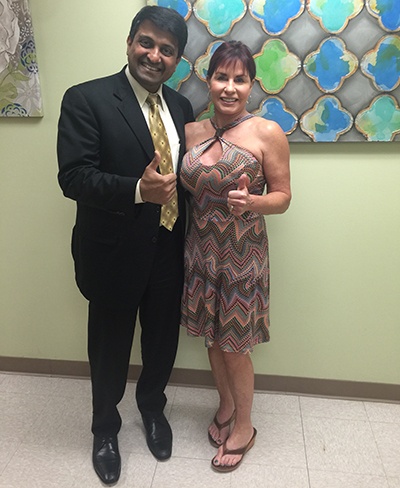 - Diana Tracy, San Diego
SDSU Student's Remarkable Journey After Life-Changing Surgery
Source: www.paradisevalleyhospital.net
Snyder visited the SDSU Health Center and the orthopedist there referred her to Dr. Harish Hosalkar, a renowned Southern California specialist in pediatric, adolescent and adult hip preservation and reconstruction, deformity correction, limb reconstruction, and orthopedic trauma.
Dr. Hosalkar diagnosed a massive symptomatic labral tear in her left hip. The labrum is a fibrocartilage rim that surrounds the hip joint and gives it stability. This cartilage seals the joint, deepens the socket and protects the joint by decreasing external impact to the joint. A tear to the labrum causes tremendous pain and athletic people are particularly susceptible to this injury.
Hip Preservation Surgery from Dr Hosalkar
---
Hip preservation in an active young adult
---
'Extra-ordinary surgery from an Extra-ordinary Surgeon': Joanne Abrassart: Temecula, California
---
Dr Hosalkar fixed my hip with 'Hip Preservation' surgery
---
The hip joint is one of the body's largest weight-bearing joints and is the point where the thigh bone (femur) and the pelvis (acetabulum) join. It is a ball and socket joint in which the head of the femur is the ball and the pelvic acetabulum forms the socket. The joint surface is covered by a smooth articular cartilage that cushions and enables smooth movements of the joint.
Hip pain has become a common problem particularly in sportspersons having vigorous activities. The main region behind the development of hip pain is due to changes in the shape or structure of the ball and socket type of hip joint.
The treatment options for the management hip disorders such as excruciating hip pain and hip dysfunction, in young patients, have been limited. However, the newer minimally invasive techniques have been found to be beneficial in these patients and these also avoid the need of hip replacement. Some of the common hip preservation surgical procedures include peri-acetabular osteotomy, proximal femoral osteotomy, open hip debridement, hip arthroscopy and cartilage restoration procedures
Hip arthroscopy is an excellent surgery that has helped many patients restore their hip function and alleviate pain originating from their hip. Hip arthroscopy, is a minimally invasive surgery that is performed through very small incisions to evaluate and treat a variety of painful hip conditions. An arthroscope is a pencil-sized instrument that has a small lens and lighting system at its one end. The arthroscope magnifies and illuminates the structures inside the body with the light that is transmitted through fiber optics. It is attached to a television camera and the internal structures are seen on the television monitor.
A variety of painful conditions can be treated using this technique. Many of his patients are able to return to activities that they were unable to do for years because of pain and limited range of motion.
Hip arthroscopy may be indicated in following conditions
Debridement of loose bodies:

Bone chips or torn cartilage debris cause hip pain and decreased range of motion and can be removed with hip arthroscopy.

Repair of torn labrum:

The labrum lines the outer edge of the "socket" or acetabulum to ensure a good fit. Tears can occur in the labrum causing hip pain.

Removal of bone spurs

: Extra bone growth caused by injury or arthritis that damages the ends of the bones cause pain and limited joint mobility.

Restoration and reconstruction of joint surfaces:

Injury to the articular cartilage can lead to arthritis. If treated early by arthroscopy the development of arthritis may be delayed or even prevented altogether.

Evaluation and diagnosis

: Patients with unexplained pain, swelling, stiffness and instability in the hip who had no success with non-operative treatments may undergo hip arthroscopy for evaluation and diagnosis of their condition.
Hip preservations surgeries are also indicated in patients with cartilage defects, to preserve the hip and to restore its functionality.
The articular surfaces of the hip joint are lined by a cartilage, known as articular cartilage. It has a smooth surface which allows the articular surfaces to slide over one another with minimal friction. Articular cartilage is often damaged by injury or normal wear and tear. Articular cartilage, when damaged or worn away, the affected joint becomes painful, stiff, and has limited range of motion. As the articular cartilage has limited ability to heal by itself, surgical repair may be required to stimulate the growth of new cartilage. Articular cartilage restoration relieves pain, improve function and can delay or prevent the onset of arthritis in the joint.
Cartilage restoration can be achieved using different techniques.
This procedure is appropriate for patients with single lesion of large area. As the patient's own cells are used chances of rejection is not a concern. However it is a two-step procedure, requiring large incision and lengthy recovery.
This technique is used for patients with small areas of cartilage damage because of the limited availability of the healthy cartilage from the same joint.
Rehabilitation
Your surgeon may recommend physical therapy following any of the hip preservation surgeries to strengthen the joint and the muscles and help restore mobility to the hip joint.
---
Hip Preservation Program
Source: www.tricitymed.org
Dennis Hamblin, 53, enjoys the adrenaline rush of hitting the slopes on his skis and has always lived an active life since he was on his high school's track team. After track practice, Dennis often joined friends in pickup football games and it was during one of these pickup games that he initially injured his groin. Over the next several years, Dennis dealt with the groin pain from the injury he sustained his sophomore year in high school. With youth on his side, Dennis found that by skipping key stretches he was able to manage the pain and went on to a successful career as a distance running competitor at the collegiate level. However, improperly addressing his true injury took a toll on his body.
"I had many lower back issues and issues with restricted range of motion. I always assumed this was because I didn't like stretching and ran about 120 miles per week when I was competing."
---
---
2nd Annual Physician Symposium May 3, 2014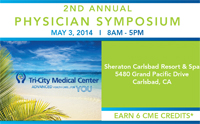 2nd Annual Physician Symposium
---
You will need the Adobe Reader to view and print these documents.